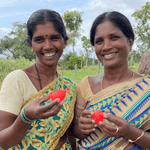 Asan has been actively working to help end period poverty through our social impact work across India, which works on providing free menstrual cups to women and girls who cannot afford or access menstrual products that are high quality. 
While sustainable menstrual products are gaining popularity in cities across the world, menstrual cup accessibility and awareness is virtually unheard of in rural areas. This is now changing with our work promoting the Asan period cup and safe period practices in villages. 
We teamed up with the Belaku Trust, a respected public health NGO in Karnataka, to conduct a menstrual health intervention as a response to the lack of access to sanitary products that are safe, high-quality and sustainable. Over the course of three years, we have impacted the lives of 8000 girls and women across 36 villages in Kanakapura Taluk by offering menstrual cups to the entire community. 
This is the first time in history that menstrual cups have been adopted at such a large scale to help end period poverty, anywhere in the world!
how did asan approach this? 
Asan strongly believes that period poverty is not just about free access to period products, but rather about providing a safe way to manage your period. So, together with Belaku Trust, Asan designed a pioneering behavioural change model where village women are equipped to promote the cup within their own communities whilst addressing the stigmas of menstruation through menstrual hygiene education.
We are not only fighting period poverty by donating menstrual cups, we are ensuring that adequate training and resources are available to every user by a trusted person from their local community. 
Within every village, there are Asan cup ambassadors who are responsible for providing training and mentoring other women and girls. Because they are learning about the Asan cup from a trusted source, nearly everyone wants to give the cup a try. 
Most importantly, the Asan cups we provided in this programme were of the exact same quality as the cups we sell – ensuring that the women in these villages had access to the best menstrual cup in India.


how has this impacted the lives of these women and girls?
For the first time in their lives, women and girls can go to school and work with zero anxiety about their periods. The Asan cup has been transformational in terms of social, economic, environmental and health benefits. Below is the impact of this intervention: 
1) Cost savings 
Women and girls in these rural areas used to spend almost Rs.150 every month on sanitary pads, and those who cannot afford period products would use cloth rags. 
The switch to the Asan cup means that every household is now saving Rs. 50,000 over a 10-year period as they no longer have to spend on pads. 
2) Sustainability 
As the Asan cup can be reused for up to 10 years, over 112 tonnes of landfill waste has been averted in these villages as women are no longer using sanitary pads each month. 
In addition to this, many women and girls would previously have to burn their used sanitary pads and be exposed to harmful chemicals due to the lack of effective waste management systems. Asan's work on eradicating period poverty has eliminated this unhealthy practice. 
3) Productivity 
For Asan, the fight to eliminate period poverty is not just about periods – it's about economic empowerment.
Using the Asan cup means that women no longer have to miss out on everyday activities due to the fear of leaks and spend hours cleaning their rags. 
Those women who were lacking access to period products were spending hours every period scrubbing cloth rags, which kept them up late into the night.
Each woman and girl has gained an average of 2 days of productive work each period, equivalent to 260 days of attending school or work over a 10 year period. 

4) Health and well-being
Many women that previously used rags or bad quality period products suffered from ongoing rashes, infections and discomfort due to the harmful plastic in period products. With the Asan cup they no longer experience these issues.   
There has also been an incredible reduction in anxiety, stress and discomfort faced every month during periods. This is perhaps the biggest impact of the intervention. 
90% of beneficiaries who received the Asan cup are still using it and the women of Kanakapura are now describing it as a "magical cup", as it has completely transformed their daily lives during periods.

With over 20,000 users of the Asan cup, we are now rapidly scaling both in India and abroad. 

Asan's aim to end period poverty for the next 10 years is to reach at least 5 million women via our sales and donation programme, and to avert 500 million tonnes of landfill waste.


how can you help?
By purchasing a menstrual cup! Every time you purchase an Asan cup, we donate one to a woman or girl in need. By participating in our 1-for-1 donations programme, you are helping transform the lives of others.