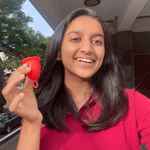 Can a teenage girl use a menstrual cup? Kaashvi Girish, a 15 year old teenager, shares her experience about using a menstrual cup for the first time and how she learnt that the Asan cup is the best period cup to buy for teens. 
learning about menstrual cups for the first time as a teen 
I first heard of a menstrual cup when I was 12 years old through a YouTuber, and I was astonished at the way a menstrual cup works. Considering I had started my first period a few months ago, I was hesitant to explore my body with new period products. 
Once I turned 14, I decided to make more sustainable, eco-friendly choices after hearing about the horrors of climate change. My grandfather, a wildlife conservationist and environmentalist, inspired me to adopt small yet impactful habits at home. 
My first few steps to a low-waste living included using a copper bottle, metal straws, a bamboo toothbrush, and consciously choosing products with reusable packaging. 
Despite all these changes to my routine, I realised that I was still generating a lot of sanitary by using pads every month for my period. I knew that I wanted to switch from sanitary pads to a more waste-free product, but wasn't sure what is a good fit for teens.  
choosing the best period product for me
After scrolling through countless companies and evaluating cloth pads, period underwear and the menstrual cup, I was convinced that the Asan menstrual cup is the highest quality menstrual cup for teens and a win-win in every possible way. 
The cup is eco-friendly and economically viable - as it is an investment for the next decade! Furthermore, the fact that the cup can last you up to 12 hours was a huge plus point for me because I have a heavy flow and play lots of sports, including basketball and cycling. 
I was convinced by Asan's mission to eradicate period poverty by their 1-for-1 donation programme. I was not only helping myself and the environment, but also a woman or girl in need. I was shocked and disquieted to learn about the lack of menstrual awareness and access to safe period products by going through Asan's website and Instagram. 
Asan has ample resources about their product that are geared towards teens. This ensured me that this cup is suitable for youngsters and I was encouraged to order the cup immediately. 
having a conversation with my parents 
Before ordering the Asan cup, I needed to talk to my mother about using a menstrual cup. When I first told her, she was hesitant about buying a menstrual cup for teens, as it was a new product that she did not know much about. It took a bit of convincing to get her to see that the cup is a good choice for teenagers! 
I knew that I had to assure my mother that the cup was a safe and comfortable product for teens. To do this, I made a 'pros and cons' list of all the sustainable products available and reviews of the products, as well as my opinion on menstrual cups for teenagers. This convinced her that the Asan cup was the best menstrual cup available for teens, after which I ordered the cup immediately.  
my first time trying the asan cup
When I received my Asan cup, I was eager to try it out but I was super anxious about how to insert something into my body. I contacted the Asan team and got the immediate support and resources I needed. 
I also watched several videos on trying the menstrual cup for the first time, the different folds you can use, where the cup sits, and overcoming your anxiety. I read through the Asan user guide that's provided with the cup, which I found to be the most helpful resource. 
I use the heavy flow cup, which is slightly firmer than the light/medium flow size and have faced no leaks. I use the C-fold and find the insertion and removal of the cup super easy as the special ring makes locating and removing the cup effortless. 
the asan cup has changed my life
Prior to using the Asan cup, I was always concerned about my next trip to the bathroom – the tension of hiding my pad so nobody sees, constantly checking for stains, and even the disposal of the pad is so burdensome. With the Asan cup, you never have that trouble.
The Asan cup will allow teenagers to sleep peacefully, work out comfortably, and go about their periods like any other day. I wish I started using the cup when I first got my period and saved two years of discomfort using pads. 
I can say that the Asan cup is a very comfortable menstrual cup for teens, and truly is 'Asan' once you get used to the process. 
5 tips for teen beginners
Go through plenty of resources – Asan has special blogs intended for teens
Practise all the three folds on the cup. 
Try inserting your finger in first and be comfortable with your body. 
Stay calm throughout the process - it may be nerve-racking but ask for advice from a cup user.
Don't lose hope! It may take a few tries, but the Asan cup will truly change your life.
It has been over a year and a half since I have used the Asan cup and I love it. I cannot stress more how easy it has made the five most irritable days of the month manageable. I am totally convinced that it is the best period cup to buy for teens.
Asan surely lives up to its tagline: The Best. Period. 
As a teen or parent of a teenager, do you have further questions about menstrual cups? Check out our special blog on advice for teenagers and menstrual cups!
Ready to buy the best menstrual cup for teens? Shop now.