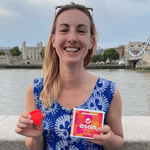 Have you been wanting to make the switch to the Asan menstrual cup but feeling a little nervous or hesitant? 
Who better to help you understand Asan menstrual cup details and experiences than users themselves? 
So this blog is here to help you with some Asan cup reviews from around the world.  
So let's see what Asan cup users around the world have to say about their experience using this sustainable period product. 
Naomi, a sustainable-tech professional from Glasgow, Scotland
Naomi is a long-time menstrual cup user from Glasgow. 
One reason Naomi prefers period cups to tampons is that they make her feel more in touch with her body. She's more aware how light or heavy her period is, and feels that she understands her flow a lot better through using menstrual cups.

When Naomi's old period cup discoloured, and was thrilled to have found Asan. She loves the red colour as it resembles her period and the cup doesn't dye. She's also a huge fan of the handy removal ring which makes the Asan cup super easy to use.

Also, a big selling factor for choosing the Asan cup was Asan's 1-for-1 donation programme, because she knows that every purchase is funding another period cup for a woman or girl in India.
Alicia, a 21-year-old dancer from London, England
Meet Alicia, a psychology student at the University of Exeter. 
Alicia has always been super sporty and loves dancing, travelling and horse-riding.

As someone that was becoming increasingly more aware of the environmental impact of using single-use pads or tampons, Alicia wanted to switch to a more eco-friendly alternative. 
She was also frustrated by the discomfort of pads and having to constantly change her pads/tampons due to her heavy flow - which was especially inconvenient during dance rehearsals or long days of horse-riding. 
After doing some research into the various options available and learning about Asan's 1-for-1 donations programme, Alicia decided to make the switch to the Asan cup.  
Alicia is loving her Asan cup as it's way more comfortable and she doesn't face any leaks at all! 
She loves that she can keep it in for 12 hours and not have to worry about disposal, as the inconvenience of carrying around used period products in pockets or bags used to be very stressful for her.
Read this blog to learn more about Alicia's experience using the Asan cup as a dancer.
Rupali, a 24-year-old yoga instructor from Dehradun, India 
Rupali, a 24-year-old yoga-instructor from Dehradun, made the switch to the Asan cup over a year ago and never looked back. 
As someone who absolutely loves to stay fit and works in a profession that involves full-time exercise, she'd been looking for a period product that could allow her to maintain her active lifestyle.

Rupali uses the Asan cup for everything - to run, do yoga, go on long hikes and explore the outdoors. 
She loves the colour of the Asan cup and its unique design which ensures no leaks and easy removal, and especially loves our 1-for-1 donations.
So if you're wondering, can I do yoga with a menstrual cup? Rupali is your perfect example of using the Asan cup and doing yoga every day. 
Sonya, an environmentalist from London, England
Sonya works in the environmental sector, and has always been aware of the impact of tampons and pads on our planet. 
She wanted a more eco-friendly solution to periods so decided to try a menstrual cup. The first cup Sonya tried wasn't perfect — it was difficult to remove, it stained and leaked on heavy days.
Then Sonya found the Asan cup. She loves the Asan menstrual cup's quality and the ring because it's so easy to remove. 
"The Asan cup has been fantastic! My favourite part is that for every cup I buy, one is donated to someone who can't access period products".
She also likes that there is special sizing based on flow, which is super simple. Sonya no longer has leaks and loves that she can exercise with ease while on her period.
Kaashvi, a 15-year-old teen leading a sustainable lifestyle in Bangalore, India 
Kaashvi, 15, wanted to switch to a menstrual cup to cut down on her plastic waste. She was really drawn to Asan because of our 1-for-1 donations, and decided to order the cup.
Being a young teen, Kaashvi was a bit scared to try the Asan cup. She took a few tries to master the art of insertion and had a few calls with the Asan team to guide her through the process. 
She used to wonder, can a menstrual cup be used while sleeping? Will it be uncomfortable to insert? 
But after trying the Asan cup for a few cycles, she's now become a total pro and claims that the Asan cup is the best menstrual cup brand for beginners. 
She finds her Asan cup much more comfortable than pads, uses it for bike-riding and sports at school, and sleeps through the night like a baby while on her period!
To learn more about using the Asan cup as a teen, read Kaashvi's detailed experience and our special teen guide. 
Ishana, a design student based in Melbourne, Australia 
Ishana (right) made the switch to the Asan cup over a year ago, when her sister Kaashvi (left) introduced her to the Asan cup. 
She has absolutely loved the cup from the start — it was easy to insert and remove because of the removal ring. 
Ishana finds the Asan cup really helpful as it helps her track her daily flow, which helps to monitor her PCOS.
She carries her pocket-sized Asan cup everywhere - on trips, at university or on a night out so that she's ready for her period no matter when it comes. 
Zubaida and Moni, two friends from Lucknow, India
Meet two friends, Zubaida (left) and Moni (right), who are both loving the Asan cup. 
Zubaida and Moni received the Asan cup in Lucknow through Asan's 1-for-1 donations programme with Pad and Prejudice, an NGO who are actively providing menstrual health education and safe menstrual products to adolescent girls from low-income communities.
After trying the Asan cup for a few cycles, Zubaida absolutely loves it. She says, "Asan cup is so comfortable. Insertion and removal is so easy. It's magical. I am convincing my sister to use Asan cup and I would recommend others as well!"
Moni is also loving her Asan cup as she no longer has to stress about her periods while working long hours in the field.
Moni says, "The Asan cup has made my life so easy. My periods have become hassle free. I don't worry about changing pads when I am on the field. It lasts for 8 hours and the cup opens easily!"
The Asan cup has made periods a worry-free experience for both Zubaida and Moni and they now want to pay it forward. Zubaida is learning to become a trainer for Asan's 1-for-1 donations programme to expand menstrual health accessibility in Lucknow.
Navya, an aerospace engineer student based in Toulouse, France
Navya is an aerospace engineer who actively looks for ways to lead a sustainable lifestyle.  
After deciding to make the switch to menstrual cups, Navya ordered a menstrual cup off Amazon but struggled with lots of leaks due to the poor design. 
She then found the Asan cup and decided to invest in it since she loved Asan's social impact mission. 
Thankfully, the Asan cup worked perfectly for her. She now uses it all the time - and is especially a fan of using it while travelling or spending long days at university. 
Navya also volunteers with Asan in her free time and helps with pop-ups and donation drives. She started as a customer and is now part of the extended Asan family. 
Mikaela and Corin, development sector workers based in London 
Mikaela (left) and Corin (right) both work in the charity sector in London.

A few years ago, Mikaela wanted to switch to a more sustainable period product and decided to try a menstrual cup. She tried a few brands but found them really difficult to remove — and then she found Asan.
Mikaela fell in love with the Asan cup because of the special ring design. She began spreading the word amongst all her friends about the benefits of switching to a cup and how it's made her life so much easier.
Corin had also had a bad experience with a menstrual cup previously so was a bit hesitant to try one again. 
But Mikaela convinced her to give it another shot with Asan and talked her through the whole process — which calmed her down and gave her the confidence to try.
Today, both Mikaela and Corin are loyal Asan cup users. They love spreading the message about sustainable periods and supporting Asan's 1-for-1 donations programme.

Sivalingamma, a home-maker from Dalimba in rural Karnataka
Sivalingamma received the Asan cup through our 1-for-1 donations programme in Karnataka. 
Sivalingamma is a home-maker, she lives in Dalimba village in Karnataka, South India.
Sivalingamma used to struggle with daily household tasks during her period as she has very heavy period flow. She used to use cloth rags that leaked and were a real pain to scrub clean.
After receiving the Asan cup almost a year ago, she's been experiencing hassle-free periods and absolutely loves how easy it's made her periods. 
She's so thrilled with the cup that she told us: "I've burnt all the cloth rags that I used for periods!"
Taanisha, a professional tennis player and coach based in Bangalore
Tanisha used to be a professional tennis player for India and is now a tennis coach for young women. 
As a professional athlete, Tanisha was in search of a period product that would allow her to maintain her active lifestyle despite getting her period. 
Her biggest problem with pads was the itchiness and discomfort, which was increased by sweating while playing tennis or working out. 
After trying other menstrual cups for a few months but experiencing discomfort while inserting them, Tanisha came across the Asan menstrual cup website and decided to give it a shot. 
She has been loving her Asan cup as she's now experiencing leak-free periods and has made playing tennis much easier. 

frequently asked questions 
What is the Asan menstrual cup?
The Asan cup is an insertable period product that collects rather than absorbs your period flow. 
Designed at the Harvard Innovation Lab, the Asan cup has a US patent for its unique design and quality. 
How is the Asan menstrual cup different to other period cups? 
The Asan cup comes with a unique removal ring, making it the easiest cup to insert and remove. 
The Asan cup is made from Class 6 Medical Grade silicone, which is the same material used in breast implants and heart stents. So you can rest assured that it is completely safe to sit inside you for up to 12 hours. 
It has a bell-shaped design which ensures that it will sit inside you perfectly and is completely leak-proof. 
How to use the Asan menstrual cup? 
The Asan menstrual cup is super easy to use. Just watch this video which explains how a menstrual cup works in 6 simple steps.  
How do you insert the Asan menstrual cup? 
You can insert the Asan cup using the C-fold or the punch-down fold. To learn more, read our detailed guide on insertion. 
How much does the Asan menstrual cup cost? 
The Asan cup is a premium menstrual cup made with Class 6 medical grade silicone - the highest quality silicone available. 
To know how much the Asan cup is, visit our online shop now. 
Don't forget to add in the discount code shown at the stop of the website when checking out your cart. 
Can a menstrual cup cause irregular periods? 
No, not at all!
A menstrual cup simply collects your period flow, and has nothing to do with how your body may be experiencing irregular periods. 
Can menstrual cups be used at night?
Yes, absolutely! 
One of the best things about the Asan cup is that you can wear it at night and sleep peacefully without having to worry about stains on your bedsheets. 
Just remember to change it every 12 hours. 
Does a menstrual cup reduce cramps? 
While this isn't medically proven, some Asan cup users say that using this menstrual cup reduces their period pain. 
Perhaps because once the Asan cup is inside them, they often forget they're even on their period and are able to go on with their day. 
Read our detailed blog on period cramps to learn more. 
Can I use a menstrual cup every day? 
A menstrual cup should only be used while you're on your period, and not to collect discharge during other stages of your menstrual cycle. 
While you are on your period you can absolutely use a menstrual cup every day - no matter how heavy or light your flow is.
Does using a menstrual cup hurt?
It's completely normal to feel a little nervous about using a menstrual cup and thinking it may hurt. 
The Asan cup is made with super soft silicone to ensure that it doesn't hurt you. 
It can take some time getting used to a menstrual cup, just like trying anything new. But, rest assured that once you get used to itp, you won't even feel it inside you. 
How do I know which Asan cup size to go for? 
Asan's sizing guide is super simple - it is based on your period flow.
If you can use a pad/tampon for 6+ hours on your heaviest flow day without leaks, then you should go for the light/medium flow cup.
Whereas if you change your pad every 2-6 hours, then the heavy flow cup will be perfect for you!
Learn more about the Asan menstrual cup dimensions with the Asan menstrual cup size chart.


Excited to try this life-changing period product after reading some great Asan cup reviews? Shop here now!