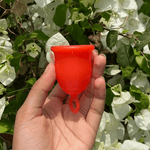 Are you curious about using menstrual cups for your first period? Or perhaps you are a parent searching for the right period product for your child?
Well, you've come to the right place! The Asan team are experts in all things menstrual cup related, and in this blog we're going to explore whether you can use a menstrual cup for your first period.
firstly, what

exactly

is a menstrual cup?
A menstrual cup is a bell-shaped device that is inserted into your vagina to collect your period flow. Most high quality menstrual cups are made from 100% medical grade silicone, which means they are extremely safe to insert into the body.
The great thing about menstrual cups is that they are reusable: in fact, if you take care of it well, a single Asan cup can be used for up to a decade!
You can watch the video below to learn how to use a menstrual cup for the first time.
can you use a menstrual cup on your first period?
"Is my daughter old enough to use a menstrual cup?" is a question we often get asked. From a health perspective, you can use a cup at any age. However, we recommend introducing a menstrual cup to your child once their menstrual cycle has become regular.
The first few period cycles can be irregular and it takes some time to adjust to having periods. Also, as menstrual cups are an insertable product, there is an added element of learning involved. 
We recommend explaining all the different period products available and how they work. That way you can begin with pads or period underwear and transition to menstrual cups whenever your child expresses a wish to try one.
Keep in mind that menstrual cups are a fantastic option for teens as it allows them to go to school, do activities such as sports and dance, and even swim on their period. We have Asan cup users as young as 13 who absolutely love our cup.
what is the best menstrual cup for beginners?
Call us biassed, but we'd definitely say that Asan is the best menstrual cup brand for beginners! In fact, the Asan cup was designed specifically with beginners in mind.
Our cup is made from soft and smooth silicone that makes it easy to insert, and our game-changing removal ring makes it extremely easy to locate and remove the cup. This is why it is highly recommended for first-time users.
In terms of sizing, our light/medium flow size is the best period cup for beginners as it is slightly smaller and softer. Our heavy flow size is a good option for those with heavier flow, once you are accustomed to using cups.
are

reusable menstrual cups for women

the same as the ones for teens?
Yes, menstrual cups for adults are the same as the ones for teens. This is because menstrual cup sizing is mainly dependent on flow, not on age – in fact, if you use the wrong size it may lead to leakage. You can learn more about this in Asan's detailed sizing guide.
how many menstrual cups

does a person need?
Here's the best part: you just need one menstrual cup for your whole period! A single Asan cup lasts for up to a decade so you just need one.
Some people like to purchase our combo back, as it includes the light/medium flow size which is a great beginner cup and the best cup for light flow days, as well as our heavy flow size, which can be used for the heaviest days of your period.
Ready to make the switch to the Asan cup? Shop here now.