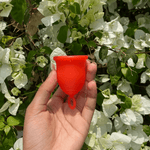 Are you thinking about trying a menstrual cup but don't know how to decide which cup to buy? 
With so many options available online, it can be difficult to understand what the best company for menstrual cups in India is. That's why we're here to tell you what makes Asan the best menstrual cup available in India. 
#1 - The unique removal ring makes it the easiest cup to remove

 
The Asan cup's unique removal ring is a key feature that makes it super easy to remove your menstrual cup. The ring is made from super soft and flexible silicone so it will not poke you at all which makes it the best menstrual cup for low cervix in India. 
It is designed for you to effortlessly locate your cup, no matter how high your cervix is. Simply locate the ring, gently pull the cup down to your entrance and squeeze the base to break the seal. This transformative ring makes Asan the best menstrual cup brand in India especially for teenagers and beginners. In our user's words, the ring really is a game-changer. 
#2 - The Asan cup is the highest quality menstrual cup

 
Made from Grade VI medical silicone, the Asan cup is the highest quality menstrual cup available. In fact, it is made with the same material that is used in heart stents and breast implants - so you can rest assured that the cup is super safe to insert inside your vagina. 
The high quality design and material of the cup ensures that no matter how heavy your period is, the Asan cup will create a strong seal and prevent leakage - allowing you to keep your menstrual cup in for up to 12 hours. That's why the Asan cup is the best menstrual cup for heavy flow in India. 
#3 - It is a sustainable choice
Making the switch from sanitary pads or tampons to Asan's reusable menstrual cup is a great way to reduce your plastic waste and be more eco-friendly. On average, we throw away 15,000 sanitary pads or tampons in our lifetime - and once these plastic sanitary products reach landfills they will remain there for hundreds of years. 
So by making the switch, you are averting all this waste. The Asan cup is the most eco-friendly cup in India as it can be used for up to 10 years!
Asan's commitment to sustainability goes beyond the menstrual cup itself. Our cloth pouch is made from 100% natural cotton and packaging is made from recyclable material. We are very mindful of our environmental footprint every step of the way and are constantly looking for ways to become even more sustainable. 
#4 - By buying the Asan cup, you are sponsoring safe period care for a woman or girl who cannot afford sanitary products
At Asan we strongly believe that no matter where you are in the world, no one should ever have to worry about access to safe and high quality period care. That's why through our 1-for-1 donations programme, with every menstrual cup you purchase, we donate one to a person who cannot afford period products. 
#5 - It comes with the best user guide and training manual 
The Asan cup comes with a super friendly and accessible user guide to help you every step of the way, making it the best menstrual cup for beginners in India. 
This training manual is super detailed and explains everything you need to know, with user-friendly illustrations which make it very easy to learn how to use the cup. 
And of course if you still have questions our team is always here to help you!  
#6 - We have a formulated cleanser to easily wash your cup
Made from 100% natural ingredients including lavender extract, the Asan cleanser is the best menstrual cup wash in India.
It is specially formulated to kill 99% of bacteria, but at the same time be gentle on your menstrual cup's silicone. Our cleanser means that cleaning your menstrual cup is an easy and hassle-free experience.

So are you ready to try the Asan cup? Shop here now.