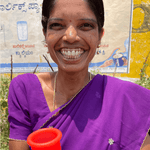 Asan is a social enterprise with a mission to eradicate period poverty. Every cup we sell, we donate one to a person who cannot afford period care. We also do extensive menstrual health education in villages. 
In the course of our work, we have come across some truly exceptional NGOs and charities that work on feminism and period poverty, towards transforming the lives of women and girls across India.
#1 - Goonj 
Area of work: Producing and distributing cloth pads 
Location: Across India
Website:  https://goonj.org/ 
Since 1999, Goonj has been working across various regions in India to address crucial issues about menstrual health, education, and livelihoods. Through their 'Not Just A Piece of Cloth' programme, Goonj works with women in rural and slum communities to confront menstrual stigmatisation in India. They strongly believe in breaking the silence around menstruation and are providing 'My Pads' cloth pads to menstruators struggling to manage their periods safely.
#2 - Belaku Trust
Area of work: Women and children's health and nutrition
Location: Kanakapura, Karnataka
Website: https://www.belakutrust.org/ 
Founded by public health expert Dr. Saraswathy Ganapathy in 1995, the Belaku Trust is an inspiring women-led NGO that works to improve women and children's health and nutrition. They primarily started as a research and advocacy-based organisation and have led development interventions in rural Karnataka for over two decades. 
In partnership with Asan, Belaku Trust has distributed the Asan cup to over 3000 adolescent girls and women. This was conducted through extensive mentoring and training with the community. After the successful implementation of the programme, Belaku Trust are now scaling the Asan cup programme to another 5000 girls and women, covering 36 villages in Karnataka, Southern India.
Women who have been happily using the Asan cup for 6 months and are now teaching others with the support of Belaku Trust.
#3 - Jatan Sansthan
Area of work: Creating employment through cloth pad production
Location: Udaipur, Rajasthan
Website: https://jatansansthan.org/ 
Co-Founded by Lakshmi Murthy in 2001, Jatan Sansthan is a trailblazing organisation working with youth groups in rural communities in Rajasthan. Through their Uger reusable pads, they promote healthy period practices, challenge taboos around menstruation, and combat the use of disposable menstrual products. The Uger pad unit not only provides livelihood opportunities to women by employing them to stitch the cloth pads, but also addresses the root causes of period poverty by providing educational sessions to learn about their bodies and normalise menstruation. 
#4 - Pad and Prejudice
Area of work: Breaking period stigmas and providing sanitary products 
Location: Lucknow, Uttar Pradesh
Website: https://www.facebook.com/padandprejudice/ 
The Pad and Prejudice programme emerged during the peak of Covid-19 in India. Due to the difficulty in accessing menstrual products during the lockdown, Pad and Prejudice initiated a programme to train women to stitch their own cloth pads, yet quickly realised that cloth pads were not feasible for some women as they can be difficult to dry outside. 
After looking into other sustainable menstrual product options, the team at Pad and Prejudice reached out to Asan to partner on a menstrual cup donation programme. Via our 1-for-1donations, Pad and Prejudice have now distributed over 500 Asan menstrual cups to adolescent girls and their mothers in Lucknow. In each training session, they also educate girls and mothers about reproductive health and address stigmas surrounding menstruation.
Pad and Prejudice distributed the Asan cup to women experiencing period poverty during the peak of Covid-19.
#5 - Sanitation First
Area of work: Constructing eco-toilets 
Location: Chennai, India 
Website: https://sanitationfirst.org/ 
Sanitation First has been a pioneer in designing eco-toilets and have transformed the lives of 350,000 people globally through providing toilet facilities. Through their programme 'Period First', they also conduct educational sessions on menstruation with both teachers and adolescents students in schools and distribute micro-bacterial sanitary napkins to young girls, keeping girls in schools and enabling them to manage their periods safely.

#6 - EcoFemme
Area of work: Producing and distributing cloth pads
Location: Auroville, Tamil Nadu
Website: https://ecofemme.org/ 
EcoFemme is a pioneer in the cloth pad movement across the world. They were one of the first organisations to produce and distribute cloth pads starting in 2010. They manufacture organic cloth pads which are high-quality and last for up to three years. Through their 'Pad for Pad' and 'Pads for Sisters' programmes, Eco Femme reaches out to girls and women to break the stigma around menstrual health by covering topics such as puberty, the usage of menstrual products, and menstrual hygiene tips. 
Asan has collaborated with Eco Femme to provide menstrual health education and distribute cloth pads and menstrual cups to adolescent girls. Our joint programme enables school girls to adopt environmentally sustainable and safe period practices.
Anita from Eco Femme conducting a session on menstrual health and how to use the Asan cup.