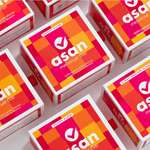 At first glance, the Asan cup may seem expensive. It costs more than your regular monthly supply of sanitary pads or tampons, and it may also cost more than menstrual cups available on online marketplaces.
We're here to explain that the Asan cup is absolutely worth it – and in fact, it will save you money! Here are five reasons why the Asan cup is without a doubt worth the up-front investment.
 #1 It's made from the highest quality medical material
The Asan cup is made from USP Class VI (medical grade) silicone. This is the same material used in medical devices such as breast implants and stents. We conduct rigorous testing in accredited labs to ensure that all the materials used in our cup are safe for human use. If you feel the Asan cup in your hands, you will immediately be able to recognise the superior quality of the materials. You can learn more about our strict quality standards here.
#2 It's designed and engineered for ultimate comfort
Many menstrual cup brands re-package and sell "generic" cups (i.e. cups that they did not design). By contrast, the Asan cup was designed and engineered from scratch in the USA to be the world's highest quality menstrual cup. We conducted four rounds of intensive user testing to ensure that every aspect of our cup's design — from the thickness of the walls to our unique removal ring — have been optimised to be comfortable and prevent leaks. We own our unique design, which is protected by intellectual property rights in the US, UK, EU and India.
#3 The cup comes with an incredible user guide and training materials
Every Asan cup comes with a cotton cloth storage pouch, as well as a one-of-a-kind illustrated user guide. We worked with doctors and gynaecologists to create our friendly and accessible user guide, which will teach you all about your body, your period cycle and how to use the cup. Our team is also always on standby to help you if required. You aren't just getting a great menstrual cup – you're getting the best possible period experience.
#4 You'll start saving money in just a few months
A single Asan menstrual cup can be re-used for up to 10 years. This means that the cost per period cycle is approximately $0.20 or ₹15! Within 3 or 4 months of switching from sanitary pads or tampons to the Asan cup, you will begin saving money, and will be averting tonnes of plastic waste from going to landfill. We've also made sure to design the cup so that it doesn't discolour over time. This means that it will look brand new even years from now.
#5 For every cup you buy, we donate one to a person in need
By purchasing an Asan cup, you are helping to provide a safe, sustainable and comfortable period solution for another person. This transforms lives by enabling women and girls to participate in essential daily activities, such as going to school and work, on their period. You can't really put a price on that.
Ready to take the plunge and try Asan cup? Click here to get it now!