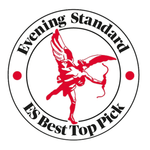 Evening Standard chooses Asan as the UK's best menstrual cup!
We're thrilled to share some fantastic news with you – the Asan cup has been chosen by the Evening Standard as its top-rated menstrual cup. 
At Asan, we spent two years developing our menstrual cup to ensure that it was the perfect design – we wanted to create a product that was easy to insert and remove, didn't leak, and didn't discolour over time. It feels wonderful to top the list of Evening Standard Best Buys, as it shows that our hard work to create the perfect menstrual cup really paid off!
The reviewer personally tried and tested 10 medical-grade menstrual cups and put together a menstrual cup buying guide, covering the best covering the best eco-friendly menstrual cups, menstrual cups for heavy flow, and the best menstrual cups for beginners.
Having tested different menstrual cup brands, the reviewer concluded that the Asan cup was the best one of the 10 sustainable menstrual cups she tried. This is because of our brilliant design and removal ring, which makes insertion and removal super easy!
Here is what the review said:
Periods don't have to be hard and the Asan Menstrual Cup makes the process as easy as can be. Easy to insert and even easier to remove (when needed), the menstrual cup tops our guide of best buys.
It wins bonus points for its round removal ring which gives you a better grip on the cup and enables you to hold onto it easily as you empty it down the toilet. The fact Asan donates one menstrual cup for free to someone who can't afford period products when you add one to your collection is the icing on top of the cake.
Are you still curious to learn more about the Asan menstrual cup? Read more for some frequently asked questions! 
where can i read the evening standard asan menstrual cup article?
Click here to read the full article on best menstrual cups in the Evening Standard, including the Asan menstrual cup review as well as other menstrual cup reviews.
what are the asan menstrual cup benefits? 
Great question! The main benefit of Asan that it is a reusable menstrual cup, which means you will save money on period products and will also save tampons and pads from polluting our environment. 
Another benefit is that it is a very comfortable menstrual cup – once you wear it, you cannot even feel it! You can easily exercise, swim and sleep through the night on your period.
There are also some very special Asan menstrual cup features such as our unique removal ring and red colour which stops the cup from discolouring.
what are some menstrual cup pros and cons?
The pros of menstrual cups include that they are affordable, sustainable and a comfortable form of period management for most people.
The cons include that menstrual cups can take a while to get used to – and they're an insertable product there is a bit of a learning curve. 
Have a look at our Asan menstrual cup insertion guide as well as these menstrual cup cleaning tips to learn more about what is involved in using a cup for the first time.
what are the asan menstrual cup sizes?
The Asan cup comes in two sizes, light/medium flow and heavy flow. If you can wear a pad or tampon for up to 6 hours without leaking, go for the light/medium size. If not, go for the heavy size.
The light/medium flow cup is a bit smaller and softer which makes it a a beginner-friendly menstrual cup that is very popular among teens.
The heavy flow size is great for users with heavy periods to avoid menstrual cup leakage.
what is the asan menstrual cup price?
If you are looking for an affordable menstrual cup then Asan is a fantastic option! It costs just Rs.1800 and can be re-used for up to 10 years. 
In terms of menstrual cup comparison, the Asan cup is priced similar to other high quality menstrual cups, such as the Saalt Cup and Mooncup.
Don't forget that included in the price of the cup is a free donation to someone who can't access safe period care. 
where can i see some menstrual cup user experiences?
Have a look at this blog which talks through the experiences of Asan cup users from different backgrounds and ages.
It shows that the Asan cup is very popular with teens, who use it to attend school and do sports worry-free, as well as for older users – including women going through menopause.
You can also have a look at the Asan menstrual cup reviews on our product page where verified Asan cup users share their feedback.

Read to take begin your menstrual cup journey? Click here to buy the Asan cup today!