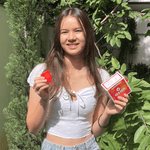 choosing the best period product for me
I remember being so excited to get my period for the first time, but immediately wasn't as excited when I felt the discomfort of wearing a pad and knew I needed to find a better solution to manage my period. 
I first heard about Asan Cup over social media. I had seen a friend post about it and had been thinking about trying out a more sustainable and easy to use cup for beginners. 
Asan's work on period poverty through their 1-for-1 donations programme and the sustainable aspect of using this menstrual cup is what drove me to choose this cup.  As a young person who is trying to live a more sustainable life, the long term benefits that switching to a menstrual cup has on our planet stood out to me. 
Whilst I was convinced with the product, I was still a little nervous when it came to trying the cup for the first time. I had always been scared to put in a tampon so the switch to a menstrual cup was terrifying, plus the fear of leaving something inside of me worried me. 
So I was always intrigued but reluctant until I saw friends using it. After speaking to my friends about using a menstrual cup, I finally tried the Asan cup in February 2022 when I was 17 years old - and I'll never look back!  
trying the asan cup for the first time 
It took me 3 cycles to get the cup in. In the beginning, I was nervous and scared to approach anyone for help. I had seen so many different folds to put it in and got overwhelmed. My biggest advice to myself and anyone trying to use it would be to just breathe, be patient, ask for help and give it time. 
When I finally managed to insert the cup with the labia fold, I realised the angle of insertion was incorrect. The labia fold was, personally, the easiest way to insert the menstrual cup. Once it was in, I could not feel it. 
As a new user of the menstrual cup, I was amazed and excited. My five day period went by so fast with no rashes or discomfort. This reusable menstrual cup with a ring is perfect for beginners. 
I put it in the cup knowing that it would not get stuck inside me and I would face no issues with removing the cup, making it a great beginner choice.
how the asan cup changed my life
Using the Asan cup became a huge confidence booster and a real game-changer for me. I no longer have to worry about getting rashes from being in a sweaty bloody pad all day.
Before I tried using a menstrual cup, the thought of being on my period would lower my mood overall. In new places, I would avoid changing my pad as washrooms often lacked places to dispose of them.
But now I feel a sense of empowerment with the Asan cup. My period has been more enjoyable and knowing that you aren't contributing to period waste is such a bonus!
Going a whole day of school without worrying about any leaks and not having to change my pad has been so rewarding, and I want every other female to feel this way too! 
playing sports with the asan cup
The Asan cup has been life changing for playing sports. I've spent my whole life playing sports and I spend over a dozen hours a week at football or basketball practice. I would dread getting my period on important matches, with the Asan cup, that is no longer an issue. 
This cup was a great beginner choice because you simply can't feel it when it is inside. I find myself showing up to sports practice no longer complaining about vaginal cramps or pad discomfort. Instead I rave about my cup to my friends and almost feel a sense of superiority with the cup inside of me. 

I no longer have to worry about leakage or discomfort while playing - being able to not feel your period has been one of the best feelings. I highly recommend this to all fellow young athletes to try Asan as a teens first menstrual cup.
my advice for you
I've always had milder periods with rare cramping. My biggest inconvenience was the discomfort of a pad and I disliked the icky feeling of being on it. The Asan Cup has been amazing for boosting my mood and feeling clean overall. 

When my friends are complaining about their periods the first thing I bring up is the cup. I've raved about this to all my friends and even purchased them as gifts. If you are reading this and aren't using the Asan cup already- please go buy it. It is the best menstrual cup for beginners and you will not regret it! 

5 tips for beginners

 
Consider a menstrual cup only when you feel ready

Give yourself lots of time when you're trying the cup for the first time

Try different folds to see what works for you! 

Call and ask a friend for help

Just breathe