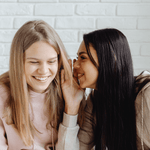 When did you get your first period? Did you know what a period was?
Getting your period for the first time can be a terrifying experience, whether you know what is happening or not.
While some of us are lucky enough to get our first period at home, others get their first period while travelling, many experience their first period at school. Millions of girls around the world still don't know what a period is until after they get it.  
This World Menstrual Hygiene Day, we asked women around the world ranging from ages 15 to 93 about their first period stories. The women we interviewed shared their first period experiences from all across the globe, including the UK, India and China.
The great news is that conversations about your periods are evolving, and first period experiences today are so much better than they used to be! Schools and parents both play an important role in explaining that periods are a natural biological process and helping children navigate the ups and downs of their first few periods.
The societal taboos and superstitions of periods vary for different parts of the world. While every culture has unique practices for when girls start their periods, many of us experience similar emotions of fear, confusion, and celebrating growing up. 
Menstrual Hygiene Day (or Menstrual Health Day as well like to call it at Asan) is all about reflecting on the inequalities faced by menstruators globally, committing to challenge existing stigma of periods, and also celebrating the difference we've made over the years. 
A lot of progress continues to be made to address period poverty but there is still a long way to go to ensure that most girls get their period after they learn about periods and have access to menstrual products.
This year,  #WeAreCommitted challenging menstrual taboos, normalising periods, and ensuring that everyone has access to safe period care.