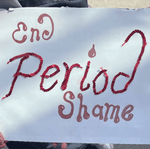 Happy Menstrual Health Day! This year, for Menstrual Health Day we asked Asan's supporters and friends to tell us one word to describe their period.
We love the mix of honesty and openness in everyone's responses, whether periods are your worst nightmare or the most beautiful indicator of your health. 
Watch this viral video asking women to 'describe your period in one word'. 
what is menstrual health day?

 
On Menstrual Health day menstrual health initiatives and organisations come together from around the world to amplify the fight against period poverty, address menstruation-related stigma and reiterate the importance of menstrual health education. 
It is a day dedicated to highlighting the challenges faced by marginalised communities and addressing menstrual taboos and cultural practices that prevent women and girls from access to safe period care. 
why do we call it 'menstrual health day' and not 'menstrual hygiene day'?
The word 'hygiene' implies that periods are dirty. At Asan we strongly believe that periods are not dirty at all - they're just a natural bodily process that needs to be managed safely and with care. 
So that's why we call this wonderful day Menstrual Health Day. 
when and how did menstrual health day start? 
World Menstrual Health Day first started in 2013 by German-based NGO WASH United.
It began as a 28 day campaign in the month of may to address period stigma and promote menstrual health advocacy. 
Since then, global campaigns on menstrual health have been increasing as more menstrual health startups and nonprofit organisations working in menstrual health come together to advocate for healthy periods. 
how can i celebrate menstrual health every day?

 
While the 28th of May is an annual awareness day dedicated to normalising periods, we believe periods should be celebrated every day of the year - and there are many ways you can be a part of this, including: 
1. Openly initiating conversations about periods amongst your family, friends and colleagues - including with those who don't get periods too.
2. Learn about the health and environmental impact of menstrual products and adopt sustainable periods for yourself. 
3. Get involved with a menstrual health and reproductive rights organisation near you. 
In line with this year's theme for Menstrual Health Day, at Asan #WeAreCommitted to starting conversations about the physical and psychological impact of menstruation, bringing menstrual health education in schools and communities, and making sustainable period practises accessible throughout the year.